---
---

"Enter the Dragon" is the fourteenth episode of Season Four of ABC's hit television series Once Upon a Time.

In order to infiltrate the Queens of Darkness as a spy for the heroes, Regina must prove she's still willing to get her hands dirty. Meanwhile, Emma, David and Mary Margaret scramble to keep tabs on their undercover operative. Hook requests an unusual favor from Belle as Henry makes progress on his search for the Author. In a Fairy Tale Land flashback, Regina befriends Maleficent and helps her to rekindle her lost spark.

"Poor Unfortunate Soul" is the upcoming fifteenth episode of Season Four of ABC's hit television series Once Upon a Time.

Hook leverages his complicated history with Ursula to find out what she knows about Gold's endgame. Gold and the Queens of Darkness torture August for information about the Author as Emma, Mary Margaret and David race to find them. Regina grows concerned for Robin Hood's safety while she struggles to maintain her cover with the villains. In a Fairy Tale Land flashback, when a restless young Ursula enlists Hook's help to run away from home, she soon learns it isn't wise to trust a pirate.

"Poor Unfortunate Soul" will premiere on Sunday, March 22, 2015.
---

MORE CHARACTERS
---

---

Once Upon a Time is ABC's hit fantasy drama. It premiered on October 23, 2011.

Emma Swan's life has been anything but a fairytale. A 28-year-old bail bondsperson, she's been taking care of herself since she was abandoned as a baby. But when Henry, the son she gave up for adoption 10 years ago, finds her, everything changes. Henry is desperate for his mom's help, and he thinks that Emma is actually the long-lost daughter of Snow White and Prince Charming.

Even stranger, Henry believes that Storybrooke, the sleepy New England town he calls home, is really part of a curse cast by the Evil Queen, freezing fairytale characters in the modern world with no memory of their fairytale selves. Of course, the seen-it-all Emma doesn't believe a word; but when she gets to Storybrooke, she can't help sensing that nothing is quite what it seems.

Season One premiered on October 23, 2011.
Season Two premiered on September 30, 2012.
Season Three premiered on September 29, 2013.
Season Four premiered on September 28, 2014.


Once Upon a Time in Wonderland is ABC's spin-off series of Once Upon a Time.

In Victorian England, the young and beautiful Alice tells a tale of a strange new land that exists on the other side of a rabbit hole. An invisible cat, a hookah smoking caterpillar and playing cards that talk are just some of the fantastic things she's seen during this impossible adventure. Surely this troubled girl must be insane and her doctors aim to cure her with a treatment that will make her forget everything. Alice seems ready to put it all behind her, especially the painful memory of the genie she fell in love with and lost forever — the handsome and mysterious Cyrus. But deep down Alice knows this world is real and just in the nick of time, the sardonic Knave of Hearts and the irrepressible White Rabbit arrive to save her from a doomed fate. Together, the trio will take a tumble down the rabbit hole to this Wonderland where nothing is impossible.

The show premiered on October 10, 2013 and concluded on April 4, 2014.
---
MORE LOCATIONS

---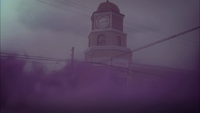 Magic
is a mystical force featured
ABC
's
Once Upon a Time
. It first appears in the
first episode
of the
first season
.
Magic is a force that plays heavily in every season of Once Upon a Time, as well as Once Upon a Time in Wonderland. It is said to "always come with a price". Those who are unaware of its costs generally find themselves with unwanted results if they choose to use it. Notable practitioners include Rumplestiltskin, the Evil Queen, the Blue Fairy and Emma Swan.

READ MORE
---

| | | |
| --- | --- | --- |
| " | Spend a little more time in this town, love, you realize just about everyone's related. | " |
---

---
---

What season has been your favorite?
Current Poll:
This poll was suggested by wiki user
Lobsterdeer
.
Last Poll:
After 392 votes, 118 people (30.1%) liked Cora's villain arc best.
---
---
Community content is available under
CC-BY-SA
unless otherwise noted.